This whole process is only 3-5 minutes tops. Let me guide you through the step-by-step process.
✓ Go to snackmagic.com and click START AN ORDER.
✓ Select the most appropriate option and click Next.
✓ Complete the order form.

Fill out the new treat form and select what you want your recipients to receive. (Swag is our merchandise line.)
Select Curated Box - recipients will receive snacks based on the theme you select.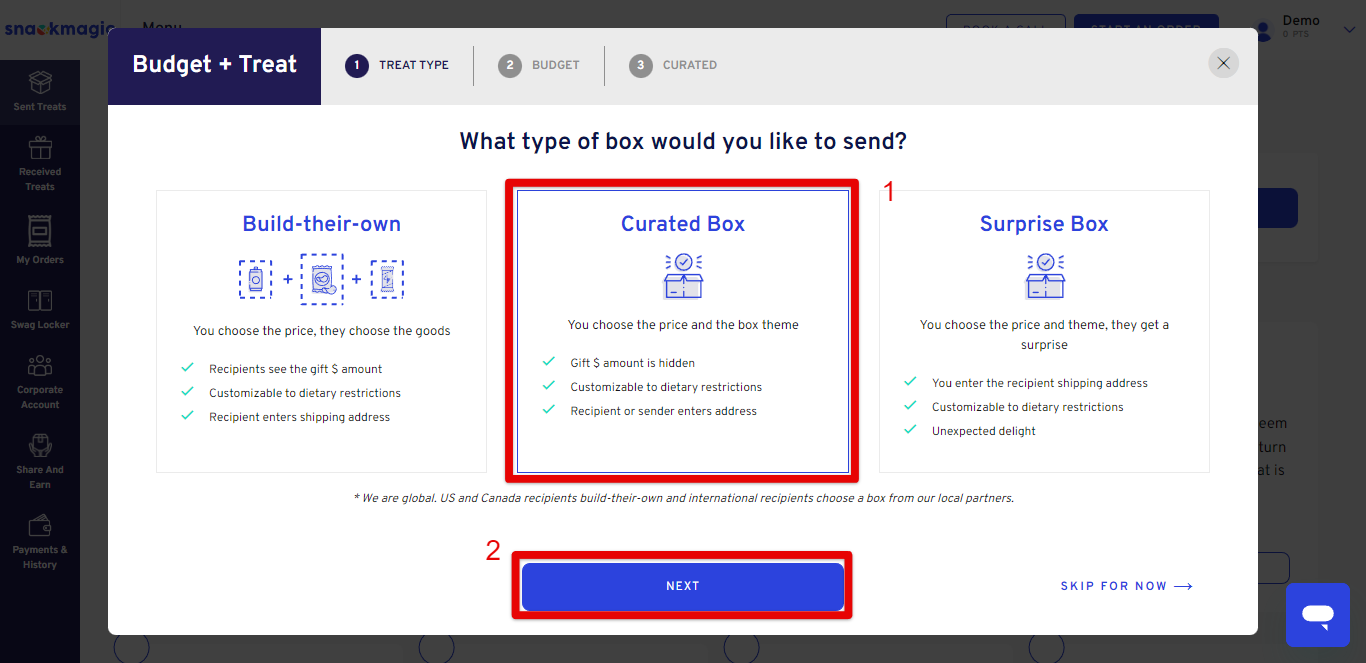 (Please note: For International Recipients, they will select from the stashes available in their country. This applies whether you go for the build-their-own or curated box option.)
** Recipients will be able to indicate their dietary restrictions, regardless of the selection **
Select/input the budget for the boxes that your recipients will receive - prices start at $45.
Select a theme for the snack boxes that your recipients will receive. You can select as many themes as you want so your recipients will have more options to choose from our curated menu. Or, just pick one and all your recipients will get the same stash.
CLOSED LINK AND OPEN LINK OPTION
Select the gift redemption link type for your order

Closed link - only email addresses added to your recipients' list will be allowed to redeem. We will send them an email where they can redeem the treat. (Please make sure that the email addresses are correctly spelled.)

Open link - upon checkout, you will receive a unique link from us. This link can be forwarded to your recipients.

Since anyone can redeem, you will need to approve and deny the orders from your Treats Dashboard.

Redemptions not listed will not be fulfilled until you approve them.

If you placed email addresses in an open link option, they are automatically approved.
Tell us how many recipients you are sending the gifts to (including international recipients).
Provide your approved recipients' email addresses

You may copy an entire column from your sheet and paste them one time

You may leave it blank and hit save & continue if you selected "Open link"
Indicate a date when you want the order link to expire.

This will be the last day that your recipients are allowed to redeem the treat.